You can't be an expert at everything. For this reason, Original Equipment Manufacturers (OEM) are constantly faced with meeting various product commercialization issues. Between streamlining supply chains, minimizing material handling, and consolidating vendor selections to remain competitive, there's a lot that goes into improving your bottom line.
OEMs base their value on customizing their product offerings—they adjust and expand designs to deliver what the customer needs. While this strategy can be effective, finding the right OEM partner can resolve the challenges beyond your organization's reach. These obstacles include:
Compliant manufacturing execution and scalability
Technical requirements and product specifications
Product cost and product line expansion
Time to market
Regulatory approvals
Product quality and performance
Serviceability and support
IP protection
Geographical proximity to customers
Increased competition
These conditions require time, financial commitment, and company resources at each stage of the lifecycle. Furthermore, if your business requires FDA certification, ISO 13485 compliance, and/or a capability to build to GMP standards, these challenges become even more complex.
As a result, outsourcing and contract manufacturing (CM), sometimes called white labeling, continues to experience substantial growth, especially for the outsourcing of complex and medical equipment that must comply with regulatory standards. A recent example is the significant demand seen in outsourcing COVID-19-related medical equipment from respirator and ventilator assembly to the equipment needed for patients and frontline workers. The situation exemplified the need for minimizing operational risk and expense and the need for expeditious time to market.
To adequately address these demands, the contract manufacturing (or repetitive equipment manufacturing) path can make a lot of sense; however, there is not one universal definition that captures the skill sets required to solve your problems. There is a unique variant of a contract manufacturer called a Turnkey Contract Manufacturer (TCM), also known as turnkey contract manufacturer (TCM), which provides a multi-disciplined skill set ideally suited for the outsourcing of complex and/or regulated equipment.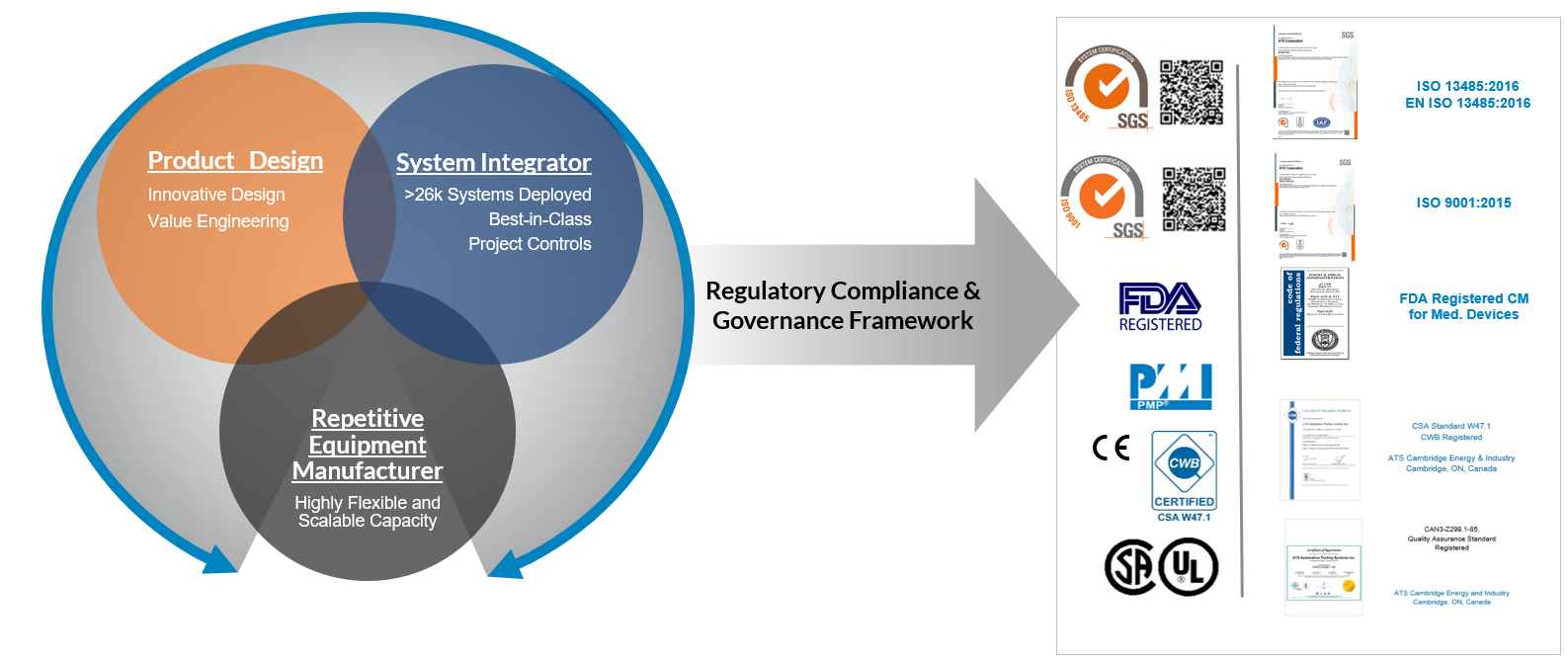 Why all contract manufacturing is not created equal
The general definition of contract manufacturing includes, "production of goods by one firm, under the label or brand of another firm." Additionally, "contract manufacturers provide such service based on the customer's designs, and/or specifications." Consider, are all contract manufacturers capable of:
Providing full lifecycle support from prototype to a fully commercialized product?
Supporting the transition from one design to a next generation design?
Providing value and continual engineering to reduce costs and lead times?
Offering aftermarket service, modifications, and upgrades with supporting spares management?
When it comes to managing many of the operational variables all, or a combination of these skill sets, are simply requirements for a successful outcome if outsourcing is a viable option. To have these capabilities, a contract services provider requires specialized engineering, project management, and supply chain skills and logistics. This is where a TREM model is significantly different than just a contract manufacturing service. The following examples describe how a TREM partnership can impact an OEM's bottom line.
1) Quality vs. quantity
Let's reflect on the purpose of contract manufacturing: "The idea of contract manufacturing is to enable the client to get relatively unimportant or routine tasks off their hands and also save money in the process."
This fits companies that are interested in outsourcing commodity-based products and services, in large volume, to CMs that will utilize a low-cost workforce. In contrast, the following illustration and examples below, describe not only how a TCM can replicate the traditional contract manufacturer's capability but also provide substantially more value:
a) Fast ramp, global deployment
A consumer products firm designed their own specialized flexible packaging machine to support their growing e-commerce business needs. They did not specialize in manufacturing which left them with a problem:


"We need over 700+ units installed to 90 sites over the next 3 years… peak demand capacity for up to 15 units/week."

E-Commerce and Consumer Products Client
A contract manufacturer is not set up to be agile and flexible. They also cannot manage scaling up and dealing with varying demands of specialized equipment that requires multi-faceted engineering expertise.
A turnkey repetitive equipment manufacturing partner, on the other hand, is ideally suited for this kind of situation. A TREM partner matures in knowledge and capability via its varying contracts, diversification in product builds and volumes, and site installations; through global refurbishment, involving spares and machine upgrades, they continue to service throughout a product's lifecycle.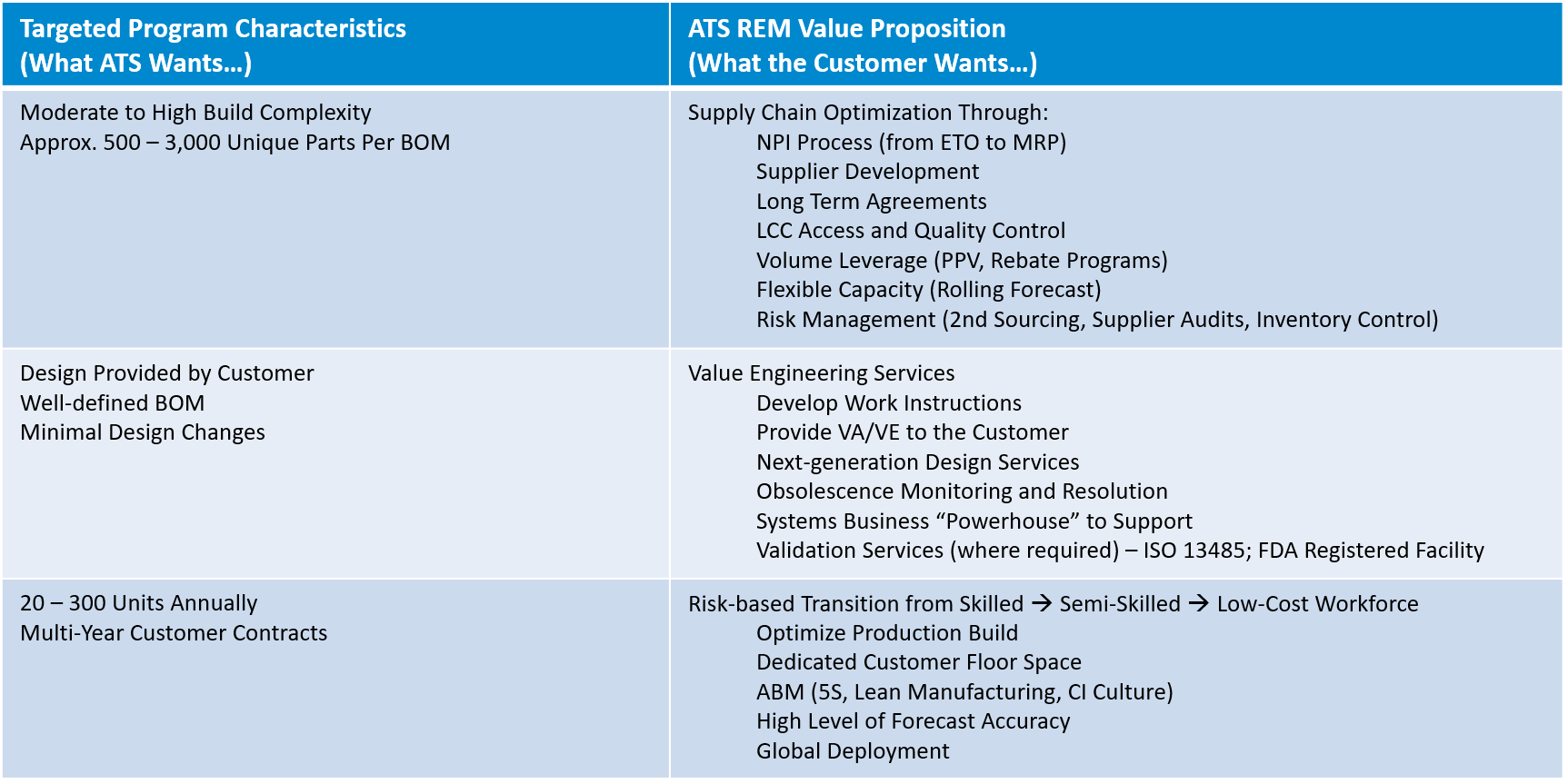 b) Focus on go-to-market
A medical equipment OEM had a problem manufacturing their product to the level of GMP standards requested by their customers. In this specific case, CE and UL certification were required for worldwide distribution of the product. Engineering support was required to redesign aspects of the product to enable improvement in productivity and functionality.
Opting for a TREM partner became a major differentiator for the company. Now, they have the support to grow sales for new customers and a full refurbishment program developed to help serve existing customers.
"Before we selected our Turnkey Repetitive Equipment Manufacturing partner, we were struggling selling our units because we were inhibited by quality issues. With ATS REM as a partner, production and quality were no longer a concern. We were able to re-focus on steady sales growth."

Medical Devices Manufacturer
c) Re-purpose existing assets for virus detection
A medical diagnostic firm needed to launch lab automation equipment that would test diagnostic test kits for a network of regional hospitals. Their issue?
"Our current lab automation is not equipped to adapt to one of the recent test kits and our timeline to refurbish these units needs to be in weeks not months.

After engaging with ATS REM as a partner, we were able to perform an engineering redesign (value engineering plus functional upgrades) in an agile way to meet customer demand. ATS REM was also able to provide validation services to expedite the timeline."

Medical diagnostic firm
2) Commercialization of a new medical device
Designing a new product and ensuring the design doesn't disappoint in terms of development time, production costs, or worse yet, clients because the design doesn't meet the required performance is challenging. Having a TREM partner as part of the design and product commercialization team early in the product concept/prototyping phase supports successful outcomes in terms of early alignment of design for manufacturing and design for automation. Many automation sins are a result of devices not being designed with automation in mind from the beginning; as a result, the efficiency to manufacture these devices is eroded and costs of production are increased. A TREM organization, unlike a traditional contract manufacturer, has the experience to manage the end-to-end approach in launching new products to market and then scaling the capacity to meet incremental demands.
3) Use the right outsourcing partner for the right purpose
Review your end-to-end processes in terms of manufacturing new and sustaining mature products. Is it time to redesign/refresh for improved functionality or next generation? Contemplate using an organization that can provide the contract manufacturing expertise for design and engineering support as well as system integration and automation capability.
In the end, it comes down to where the risk, reward and ROI land as a result of that partnership. There are numerous success stories where selecting the right type of partner enabled a competitive advantage for a business and affected the bottom line. ATS REM is a Turnkey Repetitive Equipment Manufacturer (TREM) and has been building outsourced capital equipment for the biggest OEM brands for over 20 years.