Contract (or white label) manufacturers play a very important role when it comes to producing certain products. CMs offer technical expertise gained through years of experience in the field with respect to product design, repetitive equipment manufacturing (REM), system integration, and providing service that is highly agile and can quickly scale your business.
Some of the factors to consider in favour of outsourcing your manufacturing:
Per unit cost reduction
The level of technical complexity stretches in-house engineering capability and/or capacity
A fast go-to-market ramp-up is required and internal resources to scale are not immediately available
You lack a global footprint to serve your remote customers with domestic or in-region manufacturing, service and local support, helping reduce cost, risk, and schedule
Regulatory compliance capability
Your organization's ability to service product is stretched thin and you require additional bench strength to offer an extended service program to your customers
The philosophies and tools ATS REM uses to minimize waste in your business and maximize production
Turnkey Repetitive Equipment Manufacturers (TREM) have evolved as a result of these factors and our agility allows us to support a broad range of demands. Our TREM model matured from building one-off, innovative, and custom engineered systems, designed to specific end-user requirements. Over time, as the customer's forecast demanded repeat solutions, our commercial model shifted to include build-to-print, or build to reference.
As part of our evolution to the TREM model, we challenged ourselves to incorporate lean methodologies into the design and build processes. Today we utilize our ATS Business Model (ABM) framework to incorporate various approaches to support value engineering, process flow optimization, and cost containment strategies. As volumes increase, dedicated labor can be applied, work standardized, supply chains optimized, shop floor track and trace, and flexible work cells deployed. Our TREM core competency is our ability to scale in an agile way, supporting your varying timeline needs.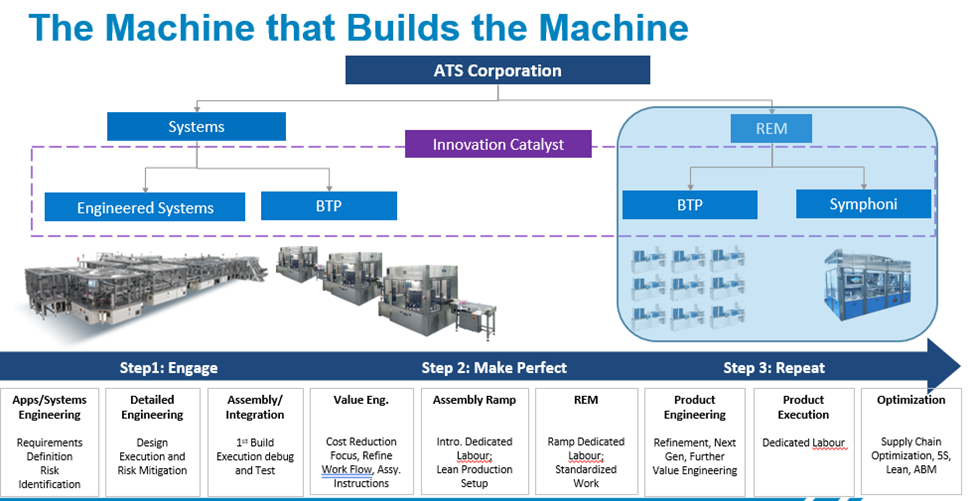 The global economy can create unique market situations. Recently, we worked with an OEM partner to help mitigate tariff implications on their medical equipment:
"We couldn't have anticipated the global trade escalations and new tariffs that were introduced. However, ATS was able to pivot. By quickly changing manufacturing locations we were able to avoid unplanned landed costs and still maintain our original timeline."

Medical Devices Manufacturer
Driving down unit costs while improving product design
A lab automation OEM selected ATS REM for a multi-year contract that required a minimum of 60 units. The expectations stated on the contract required a commitment of at least 3%, year-over-year cost reduction on a fully validated medical device. ATS REM experienced multiple contract extensions and by the end of Phase 1, achieved a 64% reduction against original cost due to VA/VE efforts.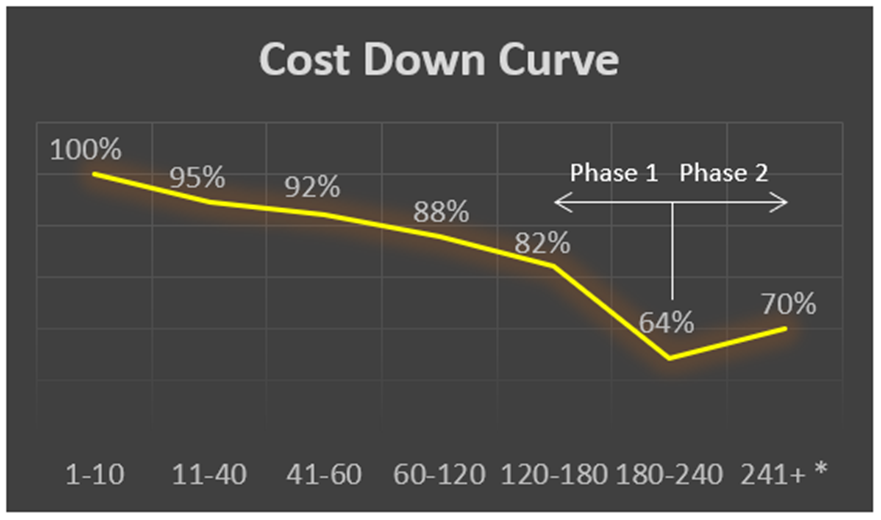 The illustration describes the cost reduction achieved over the multi-year duration and incremental units built and delivered. A second phase was awarded with the requirement for a next-generation product comprising a new controls platform, a 50% throughput increase, and mean time between failure (MTBF) improvement of four times. In the OEM's words:
"The ATS REM model delivered significant unit cost reductions while upgrading the product feature set, BOM obsolescence, aesthetics, and ergonomics."
Ensuring on-time delivery with a full lifecycle partner
A medical equipment OEM determined their expertise was in innovation and science versus managing the investment to set up the infrastructure for manufacturing lab automation and field support of pre-existing equipment.
The ATS REM success story achieved was:
extensive VA/VE,
year-over-year cost reductions,
the development of ongoing refurbishment, and
24/7 service and spare parts strategy.
The length of this program has spanned over fifteen years, delivering 750 complete lab automation devices, and the assets being serviced, including a global spares management solution for the duration of their product lifecycle. Recent enhancements also include remote and digital services for customer outreach, which is now becoming the new normal to ensure sustainable OEE and responsive error recovery.
Responding quickly to emergencies
A medical device OEM manufacturer of wearable sensors lost its supply chain and tier one equipment builder to produce its sensors. This supply disruption was catastrophic, impacting their ability to provide patients with critical medical devices.
ATS REM, leveraging our engineering proficiency, reverse engineered the previous incumbent's solution to allow continued build and supply of the wearable sensors. To date more than 50 systems have been delivered worldwide with multiple 100% OTD awards. These units required and achieved CE/UL certification. Technologies include: web handling, pico-liter dispensing, sub-micron motion control, and laser cutting.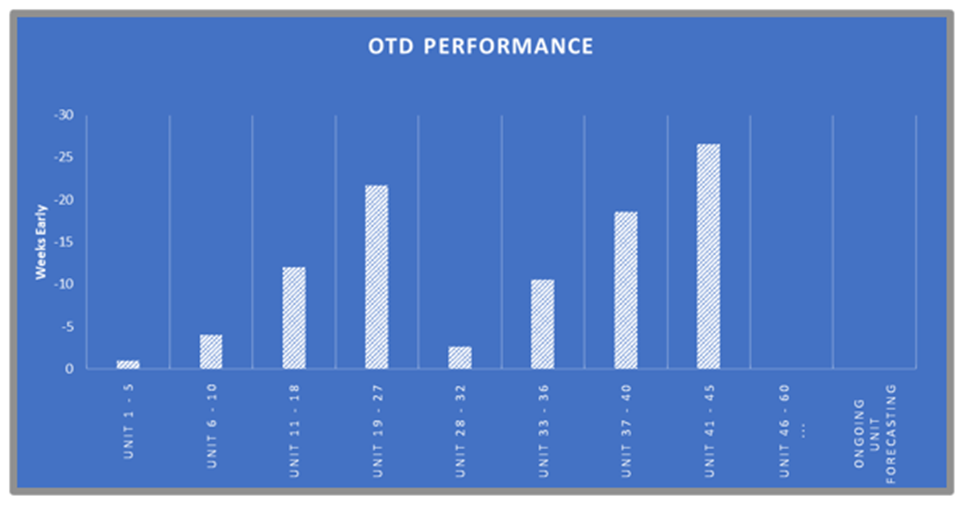 Fulfilling a surging demand to complement existing manufacturing systems
One of the critical traits defining a TREM is the unique ability to quickly deploy engineering and project management SWAT teams. Additionally, the system integrator DNA of a TREM partner incorporates a quick problem-solving mindset allowing them to execute a deep dive into bills of materials to ensure design or redesign for manufacturability. In the words of an endoscope-fluorescence imaging OEM:
"Surge demand required our partner to complement existing manufacturing while long-term capacity infrastructure was put in place. ATS REM was able to fulfill the one-time order while providing a valuable obsolescence review, VA/VE service, and comprehensive BOM and drawing package-cleanup."
How TREM bridges the cross-functional chasm between product realization to repetitive equipment build
There is an emerging need in the medical device domain where the TREM model of fusing product design, repetitive equipment manufacturing (REM), and system integration skills, is bridging an existing industry gap. The gap being a solution-oriented approach that includes sequenced and paralleled work streams coordinated by a rigorous project management process that integrates many facets of product development with full commercialization and ensuring the natural progression to a repetitive equipment build. Utilizing semi-automatic and fully automatic equipment that will produce medical devices at varying production rates, and producing a quality, compliant product is the end game. Beginning with the end in mind, it makes sense to involve the TREM builder from the beginning of the product concept phase.
One of the most common mistakes in scaling up manufacturing production is implementing automation for a product that is not designed for high output manufacturing. Implementing automation is a significant undertaking, especially for validated product design which must be manufactured within an ISO 13485 environment.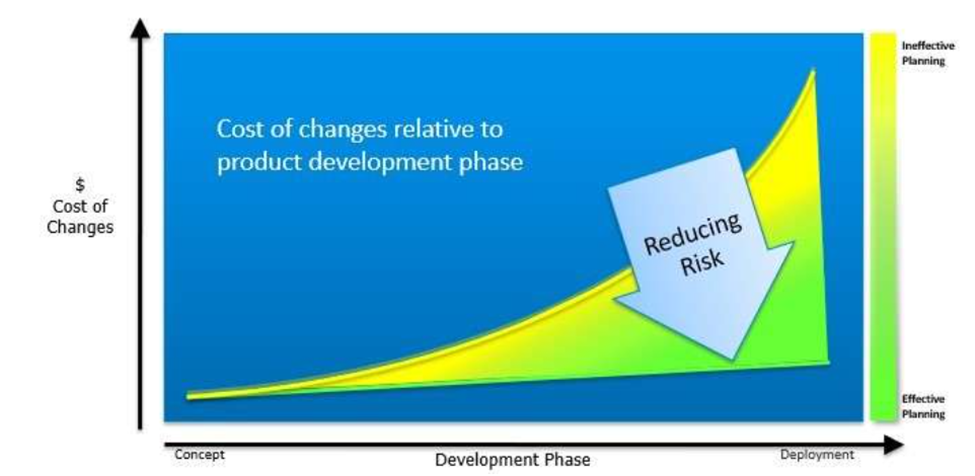 Through effective planning and collaboration, product launch risks and total cost of ownership can be reduced. Variables that can reduce costs, especially for Life Sciences-related equipment, include:
Costs of product redesign because of poor DFM/DFA preparation
Validation
Critical to quality attributes
Missing the unit cost target after the design is frozen
IP assessment
OEE
Future VA/VE and product improvements
If you're wondering if contract manufacturing is something your business should implement but aren't sure which resources would be most beneficial, please contact us — we're here to help answer your questions surrounding repetitive equipment manufacturing.