Verify and validate the correct transmission of data and functionality of your Bluetooth® enabled smart medical and diagnostic devices. Test solutions are suitable for…
Smart Medical Devices like Insulin Pens, Autoinjectors, Patch Pumps, Insulin Pumps, Inhalors, Nasal Sprays, etc.
Smart Medical Diagnostics like Glucose Meters, etc.
We co-develop Bluetooth® functionality tests – tailored to our customers specific product and process requirements. The testing station is typically installed after the (sub)assembly processes and before the packaging stations. The test system for Bluetooth® 5.0 and higher can either be a stand-alone solution or an integration into existing automation systems.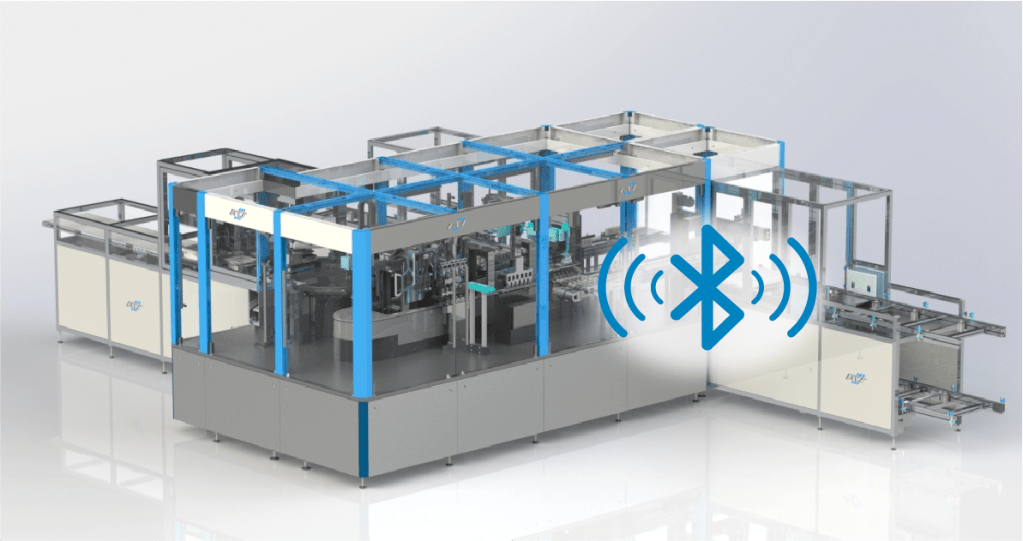 Inline-testing at 300 parts/minute possible (every device tested)*
Scalable to higher than 300 parts/minute with additional hardware
Multiplexing: Automated load distribution of devices under test to Bluetooth® sensors
Reception range approx. 8 metres at RSSI <70dBm**
Reception & inline testing possible within factory automation**
Concurrent testing with assembly and packaging operations possible
of device functionalities within your automation
for all Bluetooth® capable smart devices 5.0
test capacity according to your production rate
solution to save important production space
compliant and integrated in machine control system
and configurable test procedure
extendable for patient specific functionality tests
and documentation in batch report via PLC system
*   referring to specific customer test procedure
** depending on customer product / customer site