You cannot be an expert at everything. If you try, inevitably something will go off the rails preventing your organization from realizing their initial business objectives.
Many OEMs/businesses have evolved out of the full lifecycle ownership mindset. Process engineering, forensic engineering, and reliability engineering are a few of the many consulting disciplines available to support and effectively problem solve where there are gaps in your product development process. Whether you retain full ownership or work with an engineering consultant to support your product development it will impact your ability to scale up for manufacturing and ultimately impact your time to market.
Let's explore two lagging indicator examples:
Deficient design
Not designed for manufacturability
Deficient design
In one example of deficient design, the lagging indicator is a delayed / suspended product launch or an inferior product. If defects are not caught prior to scaling up manufacturing, the firm's financial results will be negatively impacted, such as lost unit sales, lost profit, high cost of the warranty, poor customer satisfaction, or potentially even a faulty product. The implications for brand reputation are less easily measured. The market is not as exposed to or overtly aware of this type of example because often, production is suspended as field warranties and customer complaints are not able to be supported by the organization. A forensics or reliability engineering firm is involved to determine the root cause of the deficient design that subsequently led to the undesirable product performance.
Design for manufacturability
With a second example, the lagging indicator is the product not being designed for manufacturability. That is, the product does not achieve a sustainable process efficiency and/or the cost to scale up manufacturing, driving the product unit costs beyond budget. This example is more visible because the OEM is utilizing various continuous improvement tools to achieve productivity savings either through scaling their manufacturing with automation or trying to solve a pre-existing condition in a production environment. Stack-up of assembled components is one of the most common root causes.
Not taking the time during the product design phase to review and establish the appropriate tolerances on raw material invariably leads to stack-up within the assembly process where there is an insufficient margin of error to produce effectively on any scale. Poor overall equipment effectiveness (OEE), high scrap rate, and significant downtime are the outcomes. Over time, these costs become significant and unsustainable to the business. There are very few OEMs that have not experienced some form or symptom(s) relative to this example.
There are success stories with respect to keeping commercialization in-house, especially in non-regulated spaces; however, owning the whole 'soup to nuts' process for a regulated and validated device or machine only increases the risks and problems. Involving an organization such as a turnkey repetitive equipment manufacturer (TREM) in the early phases of design planning and throughout the development:
reduces risk,
produces comprehensive validation testing criteria, and
ensures your product meets regulatory compliance from the start of the product launch.
A roadmap can be a game-changer in terms of realizing the outcomes when ready to commercialize your equipment build for larger-scale manufacturing.
Design requirements
This phase includes design planning as well as inputs and outputs. If an OEM's intention is to ramp up capacity and require additional manufacturing lines to support that ramp, why would the OEM try to manage all the associated tasks and risks without involving a TREM partner?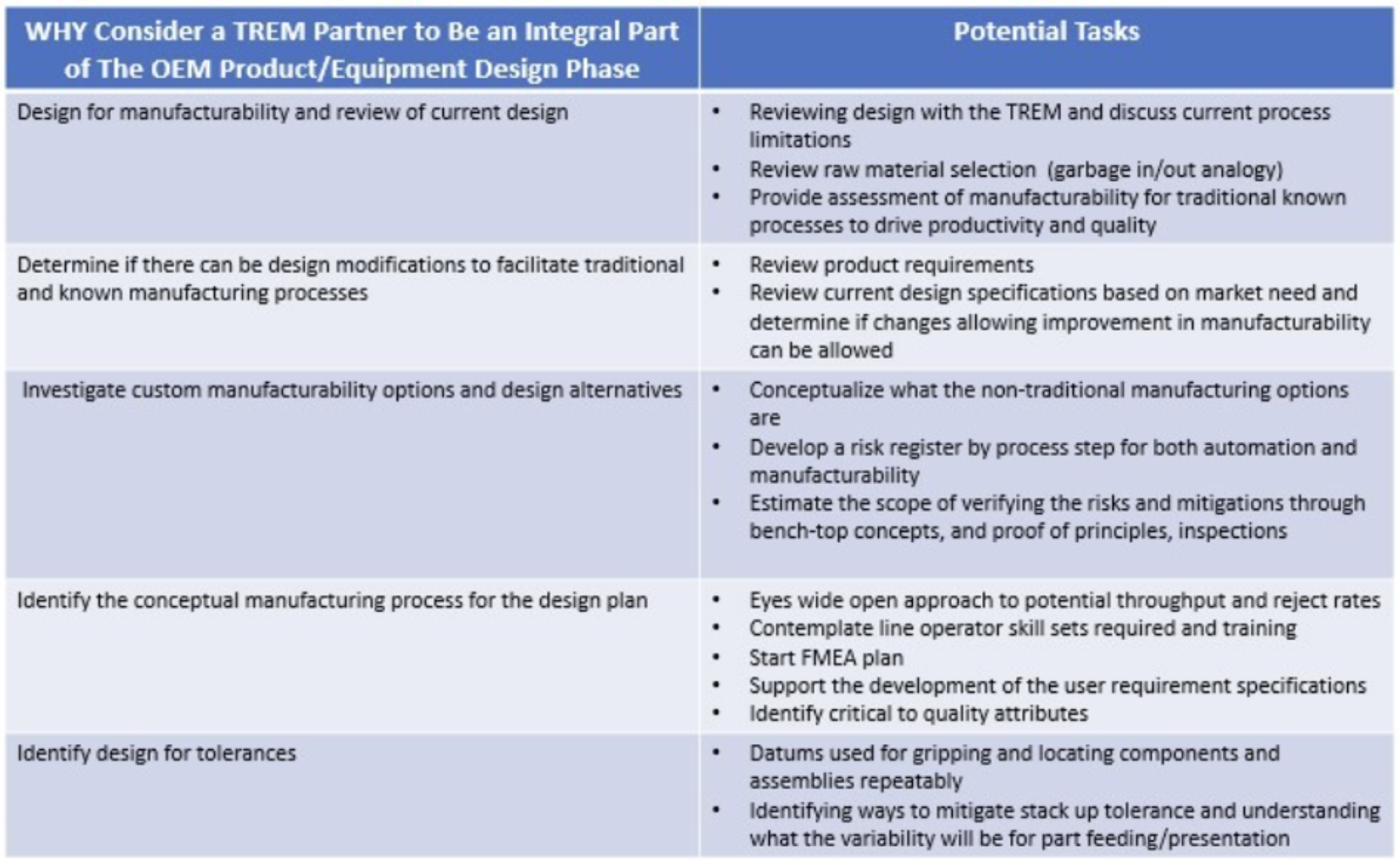 If the OEM doesn't adequately identify and mitigate the risks in terms of the relationship between the product design and the product's manufacturability, the probability for a financially successful and on-time product launch reduces. An OEM's core motivation should be providing a solution to their customer that meets their financial and desired performance criteria. To support the OEM's core motivation, involving a partner like an outsourcing equipment builder with product design, prototype, integration, and repetitive equipment manufacturing skills to support their design phase will guarantee a successful outcome. The TREM is responsible to support the OEM's vision by delivering the lowest cost and compliant solution, with minimal risks, enabling the OEM's manufacturing strategy and objectives.
Design verification and validation
Having an 'eyes wide open approach' to the potential misalignment and risks in terms of how design decisions impact manufacturability, material selection, automation, and the overall manufacturing strategy are obvious. So why do many manufacturing lines operate at a reduced OEE or why is considerable waste in the manufacturing workflow allowed? Applying problem-solving methods would help establish where the design was never proven to be scalable or in control. The problem solving would yield conclusions such as incoming raw materials to the manufacturing line need to be within tolerance to avoid stack-up. Manufacturing environments that utilize robotics can eventually adapt and overcome poor material tolerances, but the costs of training operators to use these adaptive technologies, as well as the initial investment of the adaptive technology, can be considerable and cost-prohibitive.
One of the most important litmus tests in automation is determining how automation will produce a compliant product. This same type of question should be contemplated and acted on between the OEM and TREM partner: How we do know the OEM's product design supports a reliable and repeatable manufacturing process?
To avoid the hindsight conversation of what an OEM should have done differently in the design phase and evade the lagging indicators discussed earlier of large-scale manufacturing, utilize your TREM partner and ensure they are integrated into the design phase from the start. Applying Value Engineering at the design stage with your TREM partner will ensure your product has improved functionality, drive down cost, while preserving quality.
The TREM can be integral to the design phase due to the intelligence they have attained from previous product design lessons learned. Understanding what not to do when it comes to product launches can be applied to the validation and testing phase of the design with real-life and practical experiments, which we call proof of principals. The structured approach to risk management illustrates what tools are used to demonstrate the design's alignment to a successful product commercialization launch.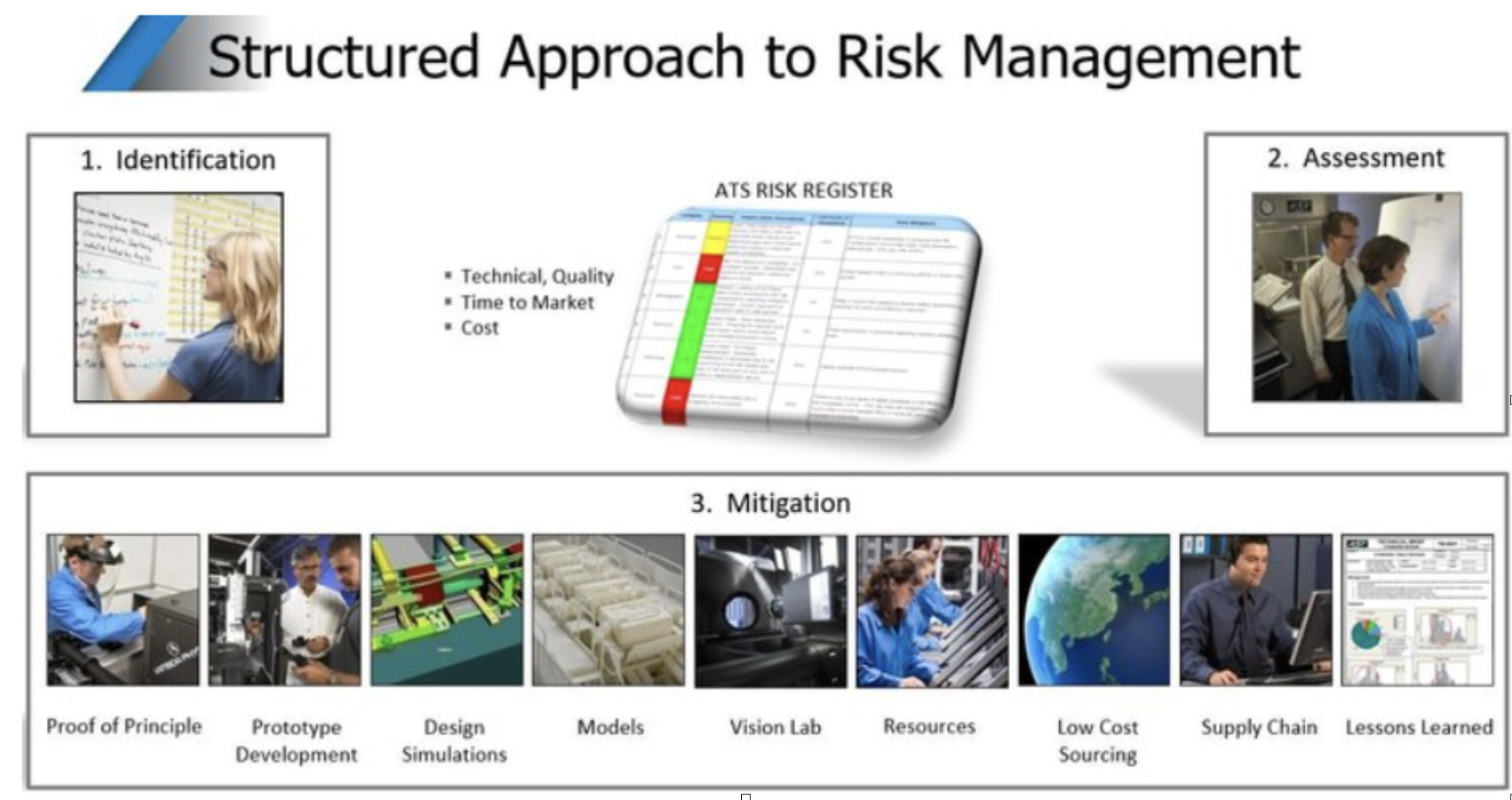 It's one thing to identify the challenges but the proof is in the actions employed to vet materials and how they behave in a simulated and low output environment. Often the TREM can apply the learnings and actions while validating the design into immediate cost savings and reduce time to market, in support of building the production equipment and tooling.
Hopefully, this article has communicated the significant upside and cost avoidance of involving a TREM as part of the early stages in product design and concept. A downside to this is the OEM getting outside their comfort zone and trusting another subject matter expert, which may challenge the OEM's normal methods of operating or internal product development processes. The early design phase is critical but think of the follow-on value add your TREM partner can provide through experience in building multiple machines for the OEM. The expertise the TREM will have in optimizing the cost, lead time, and performance for the next generation of your product is the last subject in our series about turnkey repetitive equipment manufacturers.