Complex automated systems like lab automation and diagnostic equipment are manufactured in quantities of hundreds or thousands per year—not sufficient quantities to justify fully automated assembly or conventional contract manufacturing, and generally requiring higher skilled labour. ATS Life Sciences offers turnkey repetitive equipment manufacturing (REM) services. We work with you to apply lean methodologies, process flow optimizations, value engineering, supply chain cost reductions, and other strategies so you meet your demand forecast efficiently.
---
So when does REM make sense for mass production and how is it different from build-to-print or contract manufacturing? Blair de Verteuil, Vice President of Operations North America, Life Sciences explains the differences in this short video.
Your advantages with REM:
Shorter project time
Faster delivery
Lower design and build costs
High repeatability
Reliable quality and functionality
To see if your product is a candidate for REM, complete our checklist.
---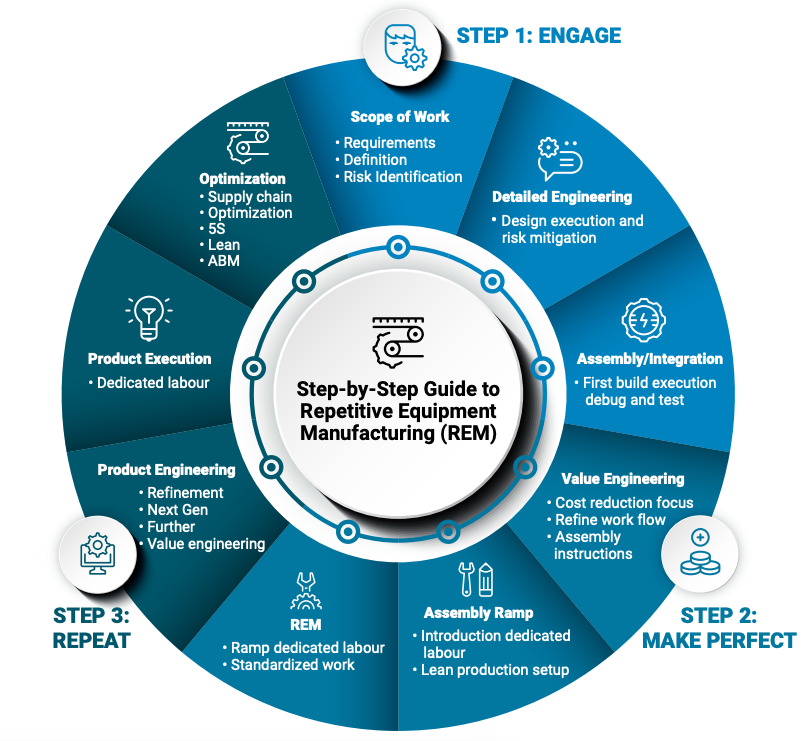 We follow a three-step process when executing a REM program. In the Engage phase, we work with your team to understand your product design intent, drawings, bill of materials, and instruction sets. In the Make Perfect phase, we explore efficiency and cost reduction opportunities and scale for production. And in the Repeat phase, we continue to do more—more value engineering, more staff training on your builds, more optimization—so that more cost savings are transferred to you.