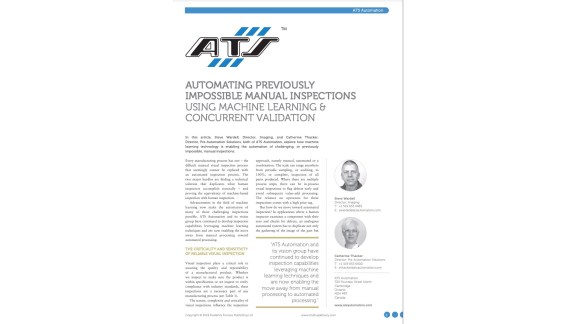 In this article, Steve Wardell, Director, Imaging, and Catherine Thacker, Director, Pre-Automation Solutions, both of ATS Automation, explore how machine learning technology is enabling the automation of challenging, or previously impossible, manual inspections.
Every manufacturing process has one – the difficult manual visual inspection process that seemingly cannot be replaced with an automated inspection process. The two major hurdles are finding a technical solution that duplicates what human inspectors accomplish naturally – and proving the equivalency of machine-based inspection with human inspection.
Advancements in the field of machine learning now make the automation of many of these challenging inspections possible. ATS Automation and its vision group have continued to develop inspection capabilities leveraging machine learning techniques and are now enabling the move away from manual processing toward automated processing.