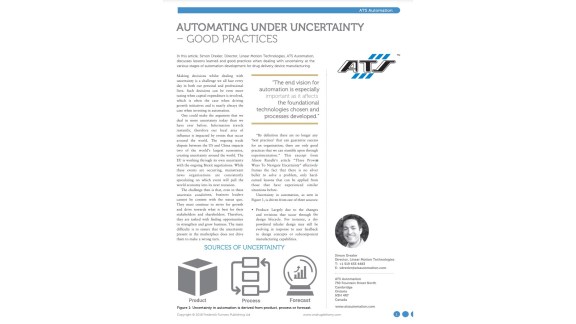 In this article, Simon Drexler, Director, Linear Motion Technologies, ATS Automation, discusses lessons learned and good practices when dealing with uncertainty at the various stages of automation development for drug delivery device manufacturing.
Making decisions whilst dealing with uncertainty is a challenge we all face every day in both our personal and professional lives. Such decisions can be even more taxing when capital expenditure is involved, which is often the case when driving growth initiatives and is nearly always the case when investing in automation.
One could make the argument that we deal in more uncertainty today than we have ever before. Information travels instantly, therefore our local area of influence is impacted by events that occur around the world. The ongoing trade dispute between the US and China impacts two of the world's largest economies, creating uncertainty around the world. The EU is working through its own uncertainty with the ongoing Brexit negotiations. While these events are occurring, mainstream news organisations are consistently speculating on which event will pull the world economy into its next recession.