As the demand for tools for the self-administration of drugs increases, so does the need for manufacturing processes that are safe, reliable, compliant, time-efficient and customizable. Explore our autoinjector manufacturing equipment.
Our autoinjector final assembly system for any common three-piece autoinjector provides scalable output rates of 20-120ppm. It is a low-cost solution with shorter delivery times, optimized footprint, lowered power/air usage and minimum maintenance needs. It is also highly flexible and scalable in terms of component loading options, accommodating additional components or processes, and handling different syringe types (round and cut flange syringes).
Pre-engineered for lower design costs and faster delivery.
Suitable for any three-piece autoinjector (additional part assembly options available).
Capable of handling external drive units.
Single side of entry for sub-assemblies and external drive units.
Accommodates both round and cut flange syringes (full vision inspection option).
Various component loading options available from manual to fully automated.
SCARA robot to achieve high speed and placement accuracy.
Low maintenance and minimum power/air usage.
Features the SuperTrak GEN3™ conveyance platform, utilizing independent shuttle control, speed, and precision. This Smart Conveyance technology delivers high performance with less effort and risk of error by design and engineering teams.
Optimized compact floor space designs.
The Illuminate™ Manufacturing Intelligence platform is a connected factory floor management system for superior and sustainable manufacturing OEE, productivity, and product quality. Designed to move our customers from data-to-decision in minutes with decisive and transformational insight.
Resources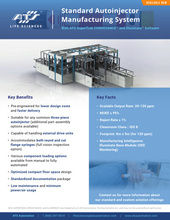 Printable Fact Sheet
Our ATS Low Throughput Final Assembly cell for autoinjectors is a semi-automated, servo-driven cell that uses force-measurement feedback to ensure proper device assembly. The tabletop system is designed for assembling the syringe, syringe unit and drive unit into an autoinjector. You can pre-test, verify and validate the assembly of your autoinjector on a semi-automatic system.
Part Rate: 2ppm
Footprint: 110 mm x 720 mm (W x L)
Height: 1030 mm (top of enclosure)
Weight: 320 kg
Communication: Ethernet Protocols
HMI: 7″ Touchscreen
Power: UL and CE approved for North America and Europe. Other power options are possible.
Resources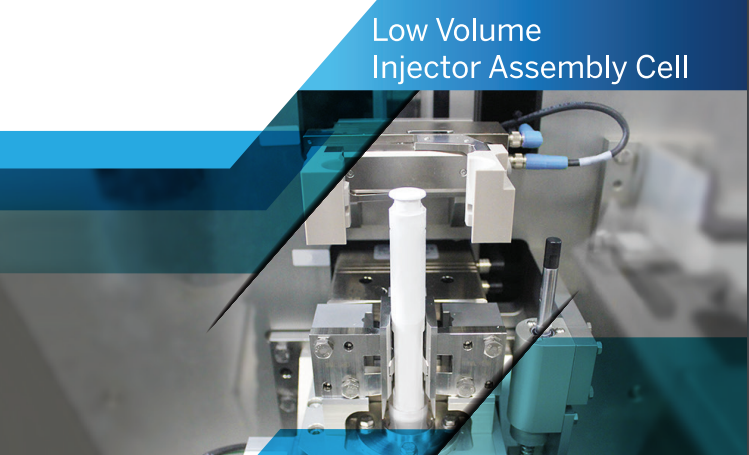 Printable Fact Sheet